* Watch FREE Digital Satellite TV *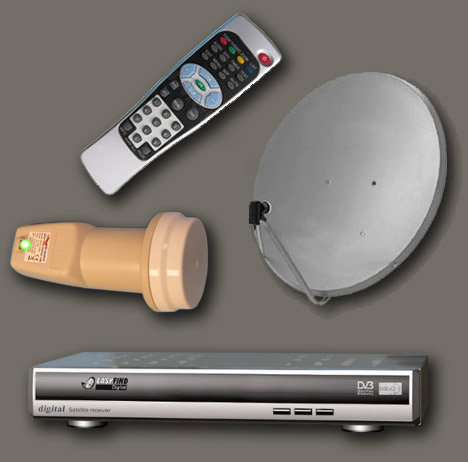 2.5 Ft. High-Performance KU-Band
Parabolic Dish (with Universal Mount)
DS model 4000-EF Digital Satellite Receiver
EF Digital Low Noise LNBF with Built-In Meter
Satellite Compass
75-Ft. Coax Cable
Satellite Chart
Easy Instruction Manual
The Model FTA -100-EF (Deluxe) Digital KU Band Satellite Television Antenna "Free to Air" Dish System receives "Free Digital Satellite TV Channels" from many KU band Satellites, making it possible to view digital satellite television from most locations in the U.S. and Canada. ( "This is The Perfect System For Today's Economy") The model FTA-100-EF (Deluxe) Digital Satellite TV System can receive "Free Digital Local USA TV Channels, plus " TV from Around The World ". The FTA-100-EF (Deluxe) Digital System is a Great Way, to bring back the "Good Ole' Days" of "Free TV." (No Monthly Bill).
The DS model 4000-EF Digital Satellite receiver is "Easy to use and find Satellites in 10 minutes or less. This New Receiver has a "Special Feature "called Easy Find. The DS-4000-EF Receiver with communicate with the specially designed LNBF that has a built-in signal strength meter. When the Dish is pointed perfectly at the desired satellite, a small LED on the LNBF will change from Red , to Yellow, and then to Green. When the LNBF light turns Green, you are locked on to your favorite satellite for a Crystal Clear Digital picture. The DS model 4000-EF Digital Satellite receiver also includes the digital Blind Scan Feature for trouble free satellite scanning. This Great New Receiver also has HDMI to work perfect with all the new Flat Screen TVs and Monitors. Plus this System works well with the old Analog TVs. The 2.5 -ft. High Gain Parabolic Dish Reflector has a perfectly matched feed horn bracket which allows any installer easy set up of the focal point alignment. The Mount is universal for installations on roofs, walls, and on a poll.
The New EF Digital KU-Band Low Noise LNBF with (built-in meter) Provides High Performance TV Reception, Fast Installation, With a Crystal Clear Digital Picture on Any TV. with Hundreds of "Free Channels."
The FTA-100-EF is the "Perfect Do It Yourself" Satellite TV System for 200+ "Free TV Channels" (No Need For a Professional Installer) The New EF Satellite Finding System Makes Installation A Breeze.)
The 2.5-ft Dish includes a convenient Universal mount, which makes setup Quick and Easy. This system is perfect for customers who are tired of paying the high cost of Cable and Pay Satellite TV .(No Monthly Bill). RV owners will also like the Low Cost and Excellent Performance found with the FTA-100-EF- (Deluxe) Digital System. Its compact size and lightweight design can go virtually anywhere! "Free TV Has Never Been Better", With this Powerful New FTA-100-EF (Deluxe) Digital System The Sky's the Limit.
The DS model 4000-EF Digital Satellite Receiver does not use any kind of programmable access card to receive programming. NO MONTHLY SUBSCRIPTION FEE REQUIRED, NO CONTRACT to SIGN. and NO TELEPHONE LINE to CONNECT. All F.T.A. Programs are FREE. It is possible to receive Hundreds of Free Digital TV and Radio programs from many different Satellites. The DS-4000-EF includes AC3 for Expanded Channel Reception. This Receiver and Satellite System Combo will Receive what the Others Can Not.
The DS model 4000-EF Digital Receiver has a sensitive tuner that receives Hundreds of FTA Free Digital channels ,standard (Free-to-Air) programming. from many different satellites. This will open up a whole new world of Free / Legal TV Channels. (Movies, Sports, News, and Family Entertainment.)
Some of the FREE Digital Satellite Programming that can be received is from the USA, CANADA, MIDDLE EAST, ASIA, and EUROPE. If you are not sure what is on a particular satellite or what is available on the satellite where your Dish is pointing ,The DS model 4000-EF Receiver will find it for you. AUTOMATICALLY! The DS model 4000-EF has "New" and Special Features, "Easy Find Satellite Technology" and " High Speed Blind Scan" . At the push of a button, the DS model 4000-EF will automatically Scan and program "Free-to-Air". Digital TV channels and Radio programs found on the Satellite where your Dish is Aiming. This Feature is quite unique because it will also find technical inf. like the FREQ., Packet information data, Symbol Rate, F.E.C. (This "New High Speed process will take only a few minutes".) This information is important when working with Digital Satellite TV.
The video format is NTSC or PAL, .Mpeg 2 Digital, The Voltage is 110v . This Receiver has a multi language menu. "The Special Bonus Feature" includes a built-in , on screen , signal level meter. Plus Easy Find Satellite Locator. This powerful "NEW" DS model 4000-EF Digital Satellite Receiver, is Fun for the whole Family" We are sure that you will be extremely happy with the Quality and performance of this Great "NEW" DS model 4000-EF Digital "Free-to- Air" Satellite Receiver that is included with the FTA-100-EF (Deluxe) Digital Satellite Antenna System. Thank you, For your interest in our Product.
This FTA-100-EF (Deluxe) Digital Satellite Antenna System includes the following items DS model 4000-EF ("Free-to-Air") Digital Satellite Receiver, Remote Control, and Low loss Video Cable set, High Performance 2.5 ft KU-Band Dish with Universal Mount, Satellite Compass Digital Low-Loss EF- KU-Band LNBF, Satellite Chart,. Factory Owners Manual, 75 foot Coax Cable Set.
The FTA-100-EF (Deluxe) System will open up a "Whole New World" of Free Digital Satellite Television Viewing Enjoyment.
This Model FTA-100-EF (Deluxe) FTA Digital Satellite System is legal and has many legitimate uses. With this fun hobby of F.T.A. Digital Satellite TV there are hundreds of free channels available. Please become familiar with "Free to Air" MPEG-2 digital Satellite TV programming and what is truly available.
WARNING
It may be unlawful to operate this device if it is done so with the intent to defraud any person or business by receiving pay TV signals or to otherwise violate Federal laws. We will not knowingly sell this product to anyone who intends to use it for any illegal or unauthorized use. The manufacturer and the distributor do not condone any individuals, companies or groups who engage in the misuse of this product in any way.
Buyer shall be solely responsible and hereby assumes any and all liability for the installation, operation and use of this product, including without limitation, the obtaining of all permits, licenses or certificates required for the installation or use of such equipment.
Buyer assumes total responsibility for product application!
With "Free to Air" you can watch Free Movies, News, Sports and Locals from around the USA and the World. "No Subscription Required" These are broadcast in the clear (non- scrambled). This system is great to watch the special events sports broadcast on Sundays major networks, and other live sporting events. At times you can watch PPV movies when they broadcast in the clear. , "All Free".. It's fun to watch live broadcast without commercials. Plus Live Uncut News Feeds and Broadcasts. There are over 30 different satellites to choose from. This system is for Free Satellite TV only. You can not purchase a subscription for this type of service. This type of satellite system is a Great Hobby and fun for the entire family. This System is like a TV Scanner for The Sky. Hundreds of "Free TV Channels" Thank you for your interest. Sincerely, www.rcdst.com
This is a "FUN HOBBY"
Thank you for your interest. R.C. Distributing LLC (23 years of Selling and Servicing High Quality Satellite TV and Specialty Electronics) , South Bend, In. 574-233-3053



We appreciate your interest in our product.

To Order Call +1 (574) 233-3053