"High Power Radio" AM / FM / SSB built-in RFX-75
The Magnum - Omega Force S45HP radio is a New 10 Meter Radio Transceiver with new features like Blue LCD display, Top Gun Modulator, Top Gun Compressor, Turbo Audio Control. The Magnum S 45 HP also features a built-in RFX75 amplifier from the factory for Maximum 80 watts PEP output. The amplifier and heat sink are mounted to the rear of the radio.
FEATURES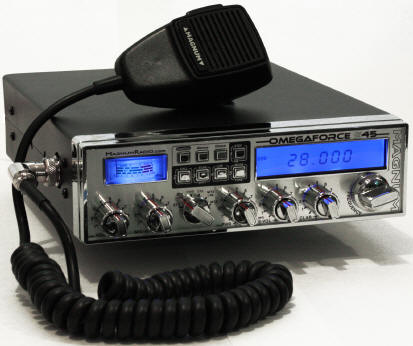 AM, FM, USB, LSB Modes
80 Watts PEP Max-Power
Top Gun Modulator
Top Gun Compressor
Volume, Squelch, Mic Gain, RF Gain
Variable RF Power Control. (When lower power transmissions are required).
Turbo Audio - Dual Control
Variable Talkback. switchable / (To monitor your audio output through your own speakers.)
Clarifier for SSB
Rotary Frequency Changing Knob with Up/Down Control on microphone
Tone Control Selectable
Rotary Switch for: STX, STX+RB, CAL, SWR, MTX, MTX+RB
Calibration Knob
Noise Blanker
Last Frequency Recall Button
Hi/Low Tone Button
Scan Select Button
Dimmer Control
Frequency Step Button with 1Hz, 10Hz and 100Hz Frequency Resolution
Mode Control Button AM/FM/ SSB
Memory Button Control (for memory buttons) LCD 5 Digit Display
Physical S/RF/SWR Meter
REAR PANEL FEATURES:
Large Aluminum Heat Sink
DC Power Cord
External Speaker Jack
NOTE: This New High Performance 10 Meter Radio has "Special Features" Not found on other 10 Meter radios. When you purchase this New 10 Meter Transceiver, you will be Pleasantly Surprised with its Powerful Performance and ease of use. (World Wide Communications Capability) "This Radio is Ready to Go and Truly One of A Kind."
NOTICE
All 10 Meter Radios are intended for use by amateur radio operators only.
Buyer shall be solely responsible and hereby assumes any and all liability for the installation, operation and use of this product, including without limitation, the obtaining of all permits, licenses or certificates required for the installation or use of such equipment.
Buyer assumes total responsibility for product application!



We appreciate your interest in our product.

To Order Call +1 (574) 233-3053