Talk to the World from the Palm of Your Hand
This "NEW" 10 meter amateur radio hand held transceiver is truly amazing. The DX capabilities are excellent. With the 10 meter band really opening up, and the AM, FM, and SSB capabilities this radio includes, Working the World with a 10 meter HT is now possible. (This is a 100% Legal 10 meter Hand Held Amateur Radio Transceiver) - Sold Only to Licensed Amateur Radio Operators.
Note: This Radio Can Also Work 12 Meters (24.890 Ð 24.990MHz), AM/FM/SSB.
Specifications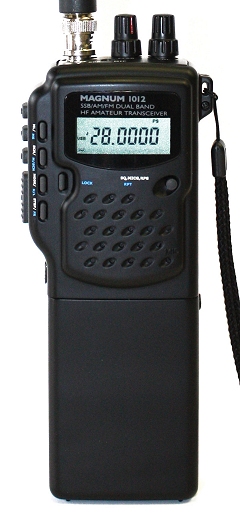 Technical Specs:
Frequency Control Phase Lock Loop (PLL) synthesizer.
Frequency Stability 0.001%
Operating Temperature Range -5° F to +110° F
Size 7.5"(H) x 2.75"(W) x 1.5"(D).
Weight 9 oz.
Antenna Connector BNC
TRANSMITTER:
Power Output AM, High:4 watts. Low: 1 W - SSB High:6-7 watts + FM
Modulation High-and low-level Class B Amplitude Modulation
Current Drain: Less than 1200 mA
Frequency Tolerance +/- 400 Hz Max
Output Impedance 50 ohms, unbalanced
RECEIVER:
Sensitivity SSB: 0.8 V for 10dB (S+N)/N
AM: 1.0 V for 10 dB (S+N)/
Image Rejection More than 70 dB.
IF Frequency AM: 7.8 MHz 1st IF, 455 KHz 2nd IF.
SSB: 7.8 MHz.
Audio Output Power 500 mw
Frequency Response 300 to 3000 Hz.
Standby Current 50 mA w/o battery save mode
External Speaker (Not Supplied) 8 ohms; disables internal speaker when connected.
FUNCTION:
(28.000-29.690 MHz 10 Meter standard coverage) + More (AM/ SSB/ FM)
Note: (This radio will also cover the 24 MHz 12 Meter Ham Band (24.890-24.990 MHz), AM/FM/SSB.)
This is a "World Wide Transceiver"
Includes: Many Special Programs and Features.
FEATURES:
Liquid crystal display with frequency readout (6 digit)
Clarifier controls
5 preset memories
Auto channel scan, auto memory scan,and last channel memory
Mic gain/RF gain/Squelch control
Noise blanker
Battery life enhancement circuitry
Dual watch channel monitoring
High/Low power selectable
Slide-on rechargeable battery system
Accepts 9 "AA" Alkaline or Rechargable Batteries
Batteries must be charged out of the radio
Unit does not come with battery charger
THIS PACKAGE INCLUDES:
M-1012 handheld Transceiver
One rubber antenna
One user's manual
("New in the Box")
NOTICE
All 10 Meter Radios are intended for use by amateur radio operators only.
Buyer shall be solely responsible and hereby assumes any and all liability for the installation, operation and use of this product, including without limitation, the obtaining of all permits, licenses or certificates required for the installation or use of such equipment.
Buyer assumes total responsibility for product application!



We appreciate your interest in our product.

To Order Call +1 (574) 233-3053